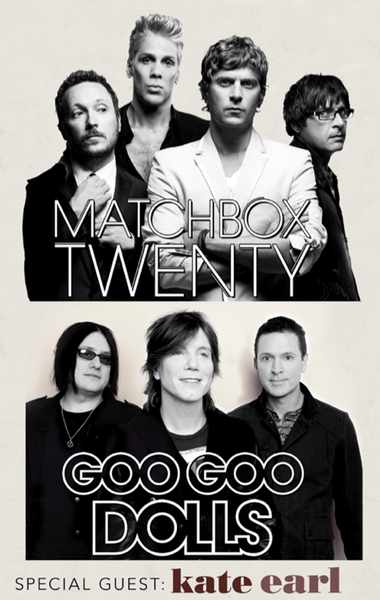 Attn: Fanclub Members!
Fanclub Members!

Are you ready for another pre-sale?

Two more dates on the recently announced Matchbox Twenty & Goo Goo Dolls Summer Tour will be included in a fanclub exclusive pre-sale on Tuesday April 2nd at 10am local venue time.

7/12 Kansas City, MO - Sprint Center (Pushed. This pre-sale will now happen on Wed 4/3)
8/14 Hershey, PA - The Star Pavillion at Hershey Park Stadium
For Hershey, PA, you will need a pre-sale code. The first batch of codes went out to all current fanclub members at 7am PT today (4/1).

The code is exclusive to you. Do not share it because it's good for only one use. Each code allows you to purchase up to 8 tickets.

A second blast will go out to all new members at 7pm PT on 4/1, so make sure you are a member by then in order to get your code.

If you have any issues with your fanclub membership, please contact ground(ctrl) support online or call toll-free at 877-GND-CTRL.

Having trouble receiving emails from ground(ctrl)? Follow this helpful guide to make sure you get all the emails.
As a side note, its always good to add [email protected] to your contact list in your email.