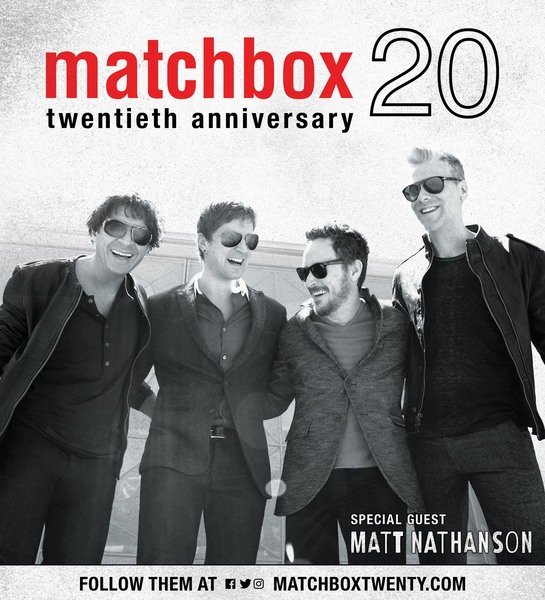 New MB20 Headlining Shows!
New Headlining Dates Announced!
August 3 Tuscon, AZ - Anselmo Valencia Amphitheater*
August 11 Southhaven, MS - Bank Plus Amphitheater
August 18 Orange Beach, AL - The Wharf
September 19 Toledo, OH - Toledo Zoo Ampitheater**
September 29 Cedar Park, TX - HEB Center
October 4 Denver, CO - Pepsi Center
October 6 Council Bluffs, IA - Harrah's Casino
October 7 Moline, IL - iWireless Center
*Matt Nathanson will not be performing at this date
**No Matchbox Twenty "YOURSELF" VIP Package available for 9/19 - other 2 VIP packages will be available.
Click the specific event link to find out when tickets go on sale to the general public.
Tour Club Members will get early access to VIP packages starting TOMORROW!

Starting Tuesday, June 6 at 10am local venue time, Matchbox Twenty Tour Club members will have access to tickets and VIP packages.
NOT A MEMBER YET? JOIN TODAY.
ALL VIP PACKAGE PRE-SALES WILL CLOSE AT 12PM PACIFIC ON JUNE 6.
This is a very brief window, so don't miss it!!
A PASSWORD WILL BE REQUIRED to purchase VIP packages during this pre-sale. Tour Club Members can find their pre-sale code in their Account Dashboard. Passwords will appear at 9:50am Eastern.
--------
Matchbox Twenty "YOURSELF" VIP Package
One Ticket In Rows 1 - 5
The Ability To Watch Matchbox Twenty's Set, On Stage, With The Band
Access To Matchbox Twenty's VIP Pre-Show Soundcheck*
Access To Matchbox Twenty's VIP Pre-Show Q&A
One Group Photo with Matchbox Twenty*
One Framed "Yourself or Someone Like You" Plaque With Your Name On It (shipped after the show)
One Limited & Numbered Poster, Autographed by Matchbox 20 (shipped after the show)
One "YOURSELF" Cinch Backpack (provided at the show)
One "YOURSELF" Hat (provided at the show)
One Pair of Matchbox Twenty Sunglasses (provided at the show)
One Commemorative Matchbox Twenty Passport & Lanyard (provided at the show)
Priority Entry Into The Venue
Access To The VIP Tour Concierge
*group photo taken with the band in groups of 10*
*Rob Thomas may or may not be able to sing during the soundcheck*

Matchbox Twenty "SOMEONE" VIP Package
One Ticket In Rows 1 - 5
Access To Matchbox Twenty's VIP Pre-Show Soundcheck
Access To Matchbox Twenty's VIP Pre-Show Q&A
One Group Photo with Matchbox Twenty*
One Limited & Numbered Poster, Autographed by Matchbox Twenty (shipped after the show)
One "SOMEONE" Cinch Backpack (provided at the show)
One "SOMEONE" Hat (provided at the show)
One Pair of Matchbox 20 Sunglasses (provided at the show)
One Commemorative Matchbox 20 Passport & Lanyard (provided at the show)
Priority Entry Into The Venue
Access To The VIP Tour Concierge
*group photo taken with the band in groups of 10*
*Rob Thomas may or may not be able to sing during the soundcheck*
Matchbox 20 "LIKE YOU" Ticket Bundle
One Ticket In Rows 5 - 20
One Limited & Numbered Matchbox Twenty Poster (shipped after the show)
One "LIKE YOU" Hat (shipped after the show)
One Pair of Matchbox 20 Sunglasses (shipped after the show)
One Commemorative Matchbox Twenty Passport & Lanyard (shipped after the show)
***Please note, all 3 VIP packages may not be available for every tour date***