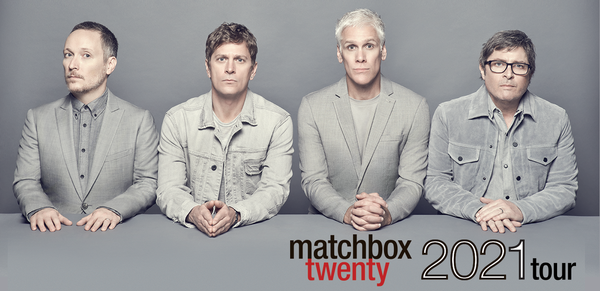 MATCHBOX TWENTY ANNOUNCES ​RESCHEDULED TOUR DATES
TOUR TO RUN JULY TO OCTOBER 2021
Los Angeles (June 22, 2020) – Multi-platinum, hit-making pop rockers Matchbox Twenty announced today the rescheduled dates for the band's summer tour. Produced by Live Nation, the highly anticipated tour will now kick-off on July 16, 2021 at the Mohegan Sun Arena in Uncasville, CT and will wrap-up October 7th at the Hollywood Bowl (see dates below).
All previously purchased tickets will be honored for the new concert dates. Ticket holders who cannot attend the newly announced shows will receive an email directly allowing them to request a refund. For more details, please visit livenation.com/refund.
Originally scheduled for this July through September, the 2021 tour is the band's first since 2017, when they reunited for the "A Brief History of Everything" tour to mark the 20th anniversary of their RIAA Diamond-certified debut album Yourself or Someone Like You.
Head over to the EVENTS page to check out all the newly rescheduled dates.
Not a Tour Club Member Yet? Join Today
Please note: If you purchased a Tour Club membership when the 2020 tour was announced your membership has already been extended through the end of the re-scheduled tour dates as a courtesy. Please contact help.wonderfulunion.com if you have any questions or concerns.